During Rugeley in Bloom's first Planning Committee in January 2020, it was decided that the first project would be to clean-up the built-up area in Market Street, at the back of Morrisons and next to the Red Lion.
The area was the site of a public toilet many years ago and, since that closed, has become somewhat run down and overgrown.
A group of 'bloom' volunteers met at the site on Saturday 22nd February 2020 and set about work. They cleaned up the site, removing the weeds and scraping off the moss. Once clear, it became apparent that the area was slabbed with rubble underneath. The area looked much better with just the overgrowth having been removed.
There is more work in this area planned but, in the meantime, the group have planted a few flowers in areas where the slabs have been removed. It looks much tidier and brighter already!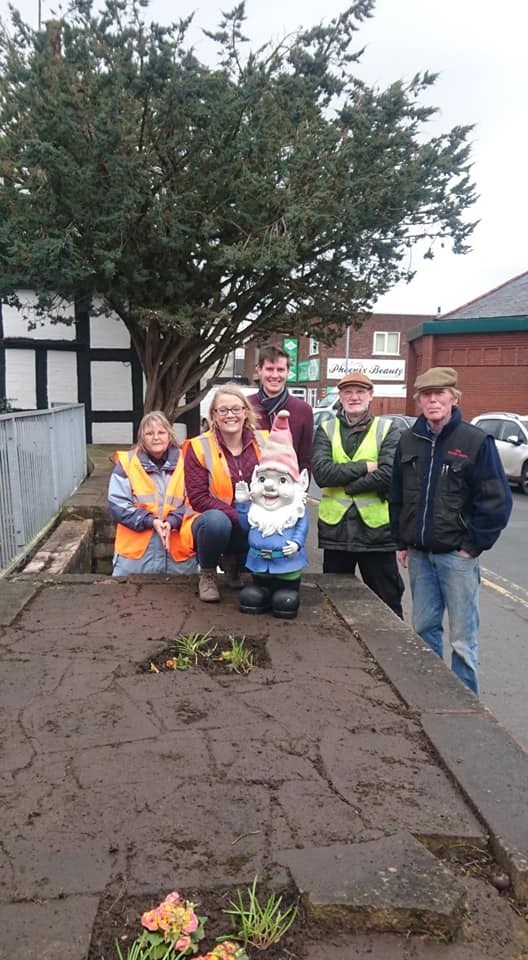 A huge thank you to the 'bloom' working party – Kate Waterworth, Patrick Cannon, Justin Johnson, Wendy Alpine, Pat Tams, June Lyons, Nick Lyons, Robert Hughes, Olivia Lyons and Roderick McGregor. Additionally, a massive THANK YOU to David Palfreyman from Fine Flowers for the plants, to Tony from Just Panels and Bathrooms for keeping us topped up with tea and coffee and to Creature Comforts for their equipment donation.